A Few Words About Us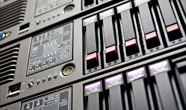 Considering that IT is a very important part of all businesses, our company was formed in order for you to spend more time on the Critical Aspects of your business strategy. Hub77.com was born to realize the goal of helping business owners, companies, startups and various institutions to ensure your businesses run at the right technology. We offer fast and reliable servers for your business needs, outstanding website maintenance support and development, website hosting and ecommerce integration and more imporantly, our service is continuous until you reach that business vision.
We work on a fast paced environment that is parallel with our fast paced technology and growing customer base.